The New Zealand Council of Cargo Owners (NZCCO) is the principal association representing the shipping supply chain interests of New Zealand's major cargo owners including many of the country's largest exporters and importers. Formerly known as the NZ Shippers' Council, NZCCO's focus revolves around efficient, reliable, cost-effective movement of cargo; domestically and internationally. Our interests span matters relating to cargo handling and transportation, border processes, workforce, safety, infrastructure, environment, commerce, trade and legislative impacts on the supply chain.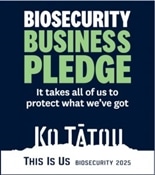 Member of Biosecurity Business Pledge
Member of Global Shippers Forum
NZCCO is an organisation for New Zealand's large cargo owners.
Any NZ cargo owner or organisation of cargo owners that individually or collectively ships in excess of 75,000 freight tonnes per annum or earns NZ$100 million revenue from import or export activity and that pays or bears the costs relating to transportation is eligible for Full Membership.
Any person or organisation operating in a supporting industry e.g. freight forwarding, transportation, supply chain infrastructure, may apply for Affiliate membership.